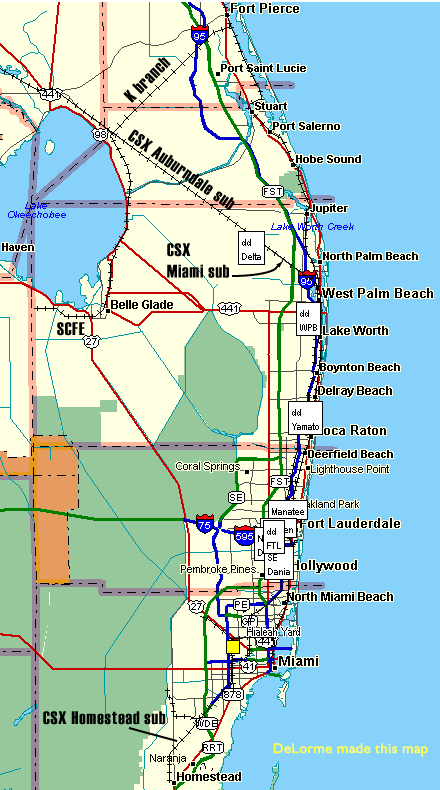 Bote's South Florida Train Chaser's Guide
Places, Times, Frequencies
Overview
There are two railroads of primary interest in south Florida: Florida East Coast Railway and SFRTA (South Florida Regional Transit Authority, ex-CSX, ex-Seaboard Air Line). Both of these railroads connect with South Central Florida Express which is owned by U.S. Sugar Corporation and operates around Lake Okeechobee. The Port of Palm Beach owns a switcher in Riviera Beach (and not in Palm Beach!) where containers are staged for the company known as Tropical Shipping.
Even though this is quite literally the end of the road, there is enough activity to keep the avid railfan busy on any given night. I say night because that is when things really start hopping down here for freight movements.
Most activity occurs during the week, with less activity on weekends, particularly Sundays.
F.E.C.
Changes in ownership of F.E.C. brought changes in operations. Rail America aims to minimize the number of trains operated in an effort to reduce fuel consumption and labor costs. In the past the F.E.C. could be counted on for upwards of 20 trains a day depending on where you were located, while in 2013 the south end sees only about 12 trains in a typical 24 hour weekday period. The temporary rock deliveries to FLL airport increase that by 4 between Fort Lauderdale and Hialaeh until that contract ends.
During the daylight hours the track maintainers and road foremen get their chance to do some work without trains running through their work areas.
Weekends are slow on the F.E.C. line, Sundays are dead, Mondays are not much better.
Cargo hauled includes pea rock, automobiles, lots of intermodal trailers and containers, automobile racks, and mixed freight (dead loads) including lumber bulkhead cars, plastic pellets, scrap steel, corn syrup, technical fat, and vegetable oil. Every once in a great while a CSX coal train will travel the F.E.C. headed to kilns in Hialeah.
So much for the F.E.C..
CSX
CSX actually leases back trackage rights from the SFRTA (South Florida Regional Transit Authority). The former Seaboard Air Line tracks were sold to the state for commuter service. The double track extends from Mangonia station (north of West Palm Beach) south to the drawbridge just north of Miami Airport station.
Tri-Rail commuter trains and 4 Amtrak Silver Service trains run over these tracks during daylight and evening hours, while 4-6 CSX freight movements occur later at night and through the wee hours of the morning, thus minimizing traffic conflicts with passenger trains. A handful of locals run day and night.
Also, listen carefully for trains to get permission to occupy the all-important Amtrak lead down at Hialeah Yard. Many have sacrificed much and many more have given their all to occupy the Amtrak lead. It is the single most sought-after trackage on the entire CSX system, and perhaps the planet. Those who have seen it swear that it is gold plated. Pilgrimages to the Amtrak lead that dwarf the Exodus have brought people from all corners of the Earth to see its dazzling glory. Be sure to make time to see it while you are in south Florida. You won't regret it. :-) Just be certain to get permission first. (J/K!)
Radio Frequencies
All trains running on the South Florida Rail Corridor use the CSX channels for vital communications. In addition, Tri-Rail has its own channel for chit-chat and shop use.
CSX Radio Frequencies

| Frequency | AAR Ch. | Use |
| --- | --- | --- |
| 161.475 | 91 | SFRTA road channel |
| 160.260 | 10 | SFRTA dispatcher channel |
| 161.490 | 92 | Hialeah Yard and occ. switching use |
| 160.785 | 45 | CSX maintenance of way |
| 160.800 | 46 | Tri-Rail chit-chat and shop use |
| 161.370 | 84 | Homestead sub data frequency; indicates train activity |
| 452.9375 | | head-of-train transponder, the railfan's best friend |
| 457.9375 | | end-of-train transponder |
Hulcher on-the-spot wreck cleaners — 43.04 MHz nationwide
Defect Detectors
After the "redman" e.o.t. data frequencies, the defect detector is the railfan's best friend, alerting you of approaching trains and even telling you the length or axle count.
There are 4 d.d.s of interest on CSX in south Florida. Sadly, none identify by place name any longer:
SX1009.1 "Oakland Park" - identifies by milepost; immediately south of Oakland Park Blvd; provides axle count and sometimes train length; moved here in late 2004 as part of double-track project that landed a high bridge over the New River right where the old d.d. was at SX1014 milepost.
SX991.5 "Yamato" - identifies by milepost; somewhere north of Yamato Road around the bend; provides axle count; moved here to accomodate double-track project.
SX973.2 "West Palm Beach" - identifies by milepost; just north of Summit Blvd; provides axle count.
SX952.1 (Delta) - near North County airport on Beeline Hwy in Palm Beach County.
Passenger Trains
Tri-Rail Train Symbols

| Day | Northbound | Southbound |
| --- | --- | --- |
| weekdays | P600-P626 | P601-P627 |
| Saturdays | P640-P652 | P641-P653 |
| Sundays | P680-P690 | P681-P691 |
Tri-Rail
Tri-Rail commuter service extends from a station near Miami International Airport northward to Mangonia Park just north of West Palm Beach. There are stations about every 4-8 miles along the way. A dual-tracking project purports to increase train frequency and reduce train headways (time between trains), although the ridership has never been outstanding on this service; it is likely that CSX freight trains will benefit more from these improvements.
The new flyover bridge crossing the New River in Fort Lauderdale is the remaining big piece of the puzzle that allows commuter trains to pass without the need to lower the existing draw span, which will remain for freights and Amtrak. The flyover bridge has a 2.5% grade on the north approach and a 3% grade on the south approach. The flyover tracks are #1 and #2, while the old drawspan single track has been renamed track #3. "Whalen" is the control point governing the massive interlocking plant on the north side of the bridge, while "Dania" is the control point where the tracks converge on the south side of the bridge. None of this is easily accessible, however.
Tri-Rail reporting marks: TCCX, TRCX
Amtrak
Amtrak sends 2 passenger trains in each direction every day to and from Miami. The station is actually in Hialeah northwest of downtown Miami and is not in the best neighborhood. Passengers can connect to Tri-Rail commuter service to Miami airport and to MetroRail to get to other points around town and to the south.
The morning sees 2 northbound Amtrak Silver Service trains, while their southbound counterparts roll through in the late afternoon and early evening time frame. The Palmetto, formerly the Silver Palm, was truncated to Savannah, Georgia in mid- to late-2004. (In May 2002 the "Silver Palm" was downgraded to the "Palmetto" with the removal of sleeper cars and substitution of a cafe car in place of full diner service. The Administration at the time was hostile to passenger rail and took these steps to kill ridership in order to support its claims that it should be eliminated.) The southbound trains come through at widely varying times after traversing the 1100 mile trip; in fact, we often joke that some freight trains down here keep better schedules than Amtrak passenger trains! Poor old Amtrak! While Amtrak continues to fight for mere scraps to fall from the Feds' table, highways and airports continue to benefit from government pork-barrel and golden fleece. Where is Senator Proxmire when you really need him???
The two Silver Service trains run the A-line south from Jacksonville through Orlando and Lakeland, with the Silver Star including Tampa on its itinerary when it can find the time. Amtrak trains no longer run over the S-line through Wildwood and Ocala.
Download the Amtrak east coast schedule from their web site for their version of arrival times. The best way to keep track of actual train locations is to trace them using the Train Status link on the Amtrak web site or use the hobbyist maps at Dixieland Software. This usually gives you the last reported location of the desired train at a specified station. If something causes trains to run way late, then even that web page won't admit it.
Amtrak reporting marks: AMTK
Freight Trains
Most CSX through-freight moves occur at night. Locals run day and night.
Cargo hauled includes rock and mixed freight, such as lumber, tank cars of oils and other liquids, as well as the ever-popular manifest boxcar loads. There is no intermodal traffic on CSX south of Auburndale, Florida. Automobile racks run on Q251 to a place called Palm Center on the Auburndale sub, which crosses the Beeline Hwy just southeast of Pratt-Whitney Rd.
The Q453/452 pair runs daily, but the southbound move takes symbol L459 on Sunday. There is usually one rock train depending on the day of the week and demand. Some run on a schedule, others run as needed. A busy night on CSX would be Q453 leaving some cars in Lauderdale on F05 or at the Dania freight lead, then Q452 northbound and a rock train northbound. Auto racks make it as far south as Palm Center about 20 miles northwest of West Palm Beach on the Beeline Hwy. No intermodal traffic runs south on the SX-line (south of Auburndale).
Most of the rock traffic fell off with the banking scandal of late 2008. All the trains are maintained in the table below as a historic reference, but don't expect every train listed below.
CSX Train Symbols and Expected Time Ranges

| Symbol | Consist | Fort Lauderdale |
| --- | --- | --- |
| Q453 | mixed manifest freight (dead loads) | 20:00-22:00 |
| Q452 | mixed manifest freight (dead loads) | 22:00-01:00 |
| L459 | mixed manifest freight (dead loads) | 20:00-22:00 (Sundays) |
| K977 | Sanford rock empties | 02:00-05:00 |
| K978 | Sanford rock | 23:00-02:00 |
| K947 | Sanford, Taft rock empties | 03:00-05:00, as needed |
| K948 | Sanford, Taft rock | 23:00-02:00, as needed |
| K940 | Sanford rock | 22:00-02:00 |
| K941 | Sanford rock empties | midnight-04:00 |
| K973 | Jacksonville rock empties from Yelvington | 02:00-05:00 |
| K974 | Jacksonville rock for Conrad Yelvington | 23:00-02:00 |
| K995 | Tampa rock empties | 03:00-08:00 |
| K996 | Tampa rock | 23:00-02:00 |
| K915 | Ocala rock empties | 04:00-07:00 |
| K916 | Ocala rock | midnight-02:00 |
| K975 | Tampa rock empties | 02:00-05:00, rare |
| K976 | Tampa rock | 23:00-02:00, rare |
| o716 | West Palm switcher | daytime |
| o717 | Pompano switcher | daytime |
| o718 | Ft Lauderdale switcher | nighttime |
| o719 | Homestead switcher | daytime |
| o720 | Deerfield switcher | nighttime |
| o721 | Sterling switcher (Miami rock) | nighttime |
| o722 | Miami switcher | daytime |
CSX Train Watching Spots
If you like the thrill and anticipation of a passenger train pulling into the station, you have a selection in both Broward and Palm Beach counties. Most are easy to find, courtesy of informational road signs, and have good parking close to the tracks. Certain of these stations are shared between Amtrak and Tri-Rail, so they are naturally busier during the day.
The line between West Palm and Miami has been double-tracked. Some stations have been decommissioned to make way for the double-track and be replaced by new dual-platform stations with overhead walkways connecting each side. These walkways can be perfect spots for train watching as long as you don't loiter too long and draw the attention of some idiot do-gooder with a cellphone who considers you a terrorist.
Palm Beach County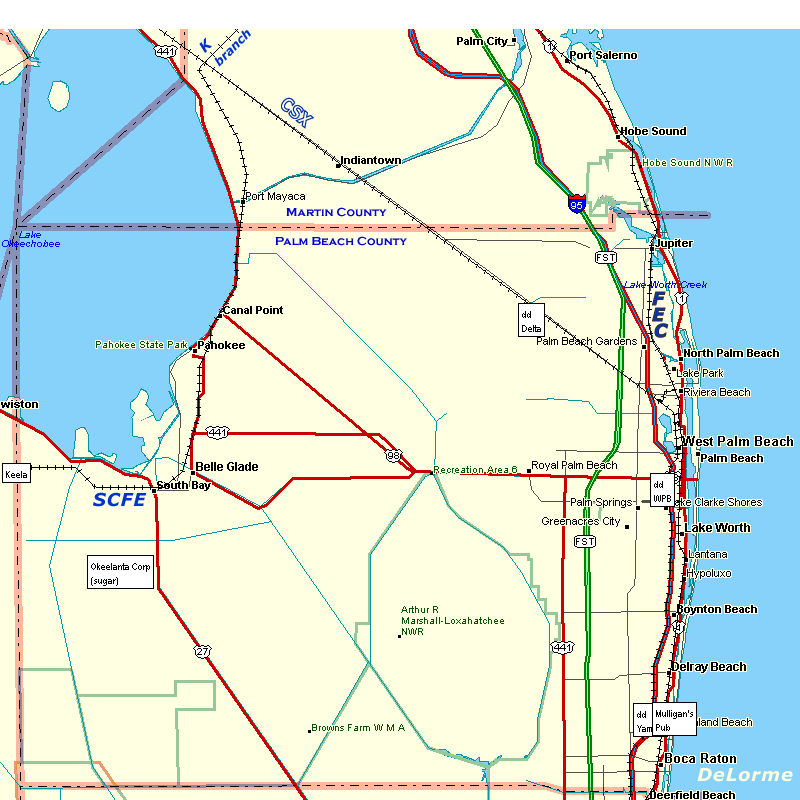 Amtrak trains make scheduled stops in West Palm Beach which is easy to access on Tamarind Avenue north of Okeechobee Blvd and just south of Banyan Blvd. The parking area at the north end of the station is a good place to park and watch because the head-end of northbounds stop right about there. The pedestrian overpass makes an excellent vantage point for train watching during the day!
Boynton Beach has a secret spot for watching CSX trains. Exit I-95 and head west on Boynton Beach Blvd to make a U-turn in front of the small shopping plaza at the bottom of the hill, then hang an immediate right at the Waffle House. 2 blocks later turn left onto Ocean Ave and drive several blocks to tracks. Just like that you're sitting at your own private train watching spot with C.P. Coconut right there. The trains really blast through here at break-neck speed so you WILL feel the breeze!
Lake Worth station sits on Lake Worth Rd (where else?), but there is no exit off I-95 to get there. Instead you have a choice of either 10th Ave North or 6th Ave South, and then take A St. or one of the other lettered streets to Lake Worth Rd. which is the north-south divider in the center of town.
Farther up the line, SR 710 (the Beeline Highway) heads northwest parallel to the CSX tracks. Although there is a stand of trees between the tracks and the road, if you are headed this way anyhow and you can time it to pace a train along there, it can be fun. Note the diamond at Marcy where SCFE's (ex-FEC's) K-branch crosses and heads down to Belle Glade and around Lake Okeechobee to the sugar fields. There is also an auto rack facility at C.P. Palm Center along here as well. A swing bridge carries the tracks across the St. Lucie Canal near Indiantown.
Broward County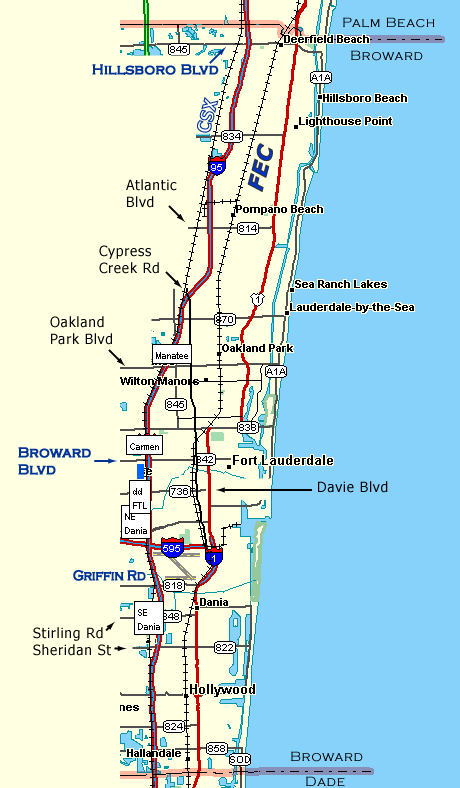 NOTE: The map to the right is not current as a result of a few changes creeping up on it. When I get the time I will update it, but it still serves as a good guide as to where things are.
Fort Lauderdale Amtrak station (blue box on the map at Broward Blvd) has plenty of parking right near the tracks, so you can watch the head-end pull in and then give a couple toots on the horn right in front of you before it pulls out. There are flyover ramps from I-95 directly into the station parking area or you can follow the signs from Broward Blvd and loop around and into the station from the surface streets.
The new Dania Freight Lead has several tracks to expand the storage capacity for Fort Lauderdale. It lies south of the New River and can be accessed from I-95 to Griffin Road west to Ravenswood Road north (1st traffic signal). Locals do their switching at night both here and back at the old yard near the Broward Blvd passenger station, where you can watch from the comfort of your vehicle. Locals O718 and O720 work here at night.
Other stations good for train watching include Griffin Rd in Dania and Deerfield Beach station on Hillsboro Blvd, which also houses the South Florida Rail Museum with extensive model layouts.
The roundabout access to "Airport" station is west on Griffin Rd from I-95, then south on Ravenswood Rd, then the very next left into the access road to the parking area. You can see it right next to Griffin Rd., but it doesn't seem like you can get there from here.
Deerfield Beach station lies west of I-95 on the south side of Hillsboro Blvd, so you have to make a U-turn and come back east on Hillsboro to get into the station. Park in the lot on the east side of the CSX tracks to get to the South Florida Rail Museum.
On the northwest corner of the intersection of Cypress Creek Rd and Andrews Ave lies a good sized shopping plaza. Behind the Longhorn Steakhouse is an excellent spot to watch from a safe distance as trains pass at healthy speed. Control point N.A.S. Cypress is visible just north of there.
Stirling Rd crosses the tracks right at the Sheridan signal (why not call it Stirling then???). There is a business with a parking lot next to the tracks affording a look up at passing trains.
Atlantic Blvd in Pompano Beach is great for running between CSX and F.E.C. since it is such a short distance between them at that point and there are grade crossings on both tracks. There is plenty of grassy right-of-way along the F.E.C. tracks just north of Atlantic. CSX has the Pompano Farmer's Market alongside the tracks, but if you stay out of the way you can find a spot back in there.
That's pretty much it. CSX has fewer grade crossings than F.E.C. down here and the tracks are far less accessible generally. Stay safe and enjoy!