Return to Bote's Rail Pages
Bote's Tri-Rail Page
South Florida Commuter Train Service
Introduction
Tri-Rail is the public name of the South Florida Regional Transit Authority's commuter train service. They are sponsoring a double-track project to upgrade the line to 2 tracks from Mangonia Park (north of West Palm Beach) all the way to the Miami Airport station, most of which is completed as of this writing.
Signals
Numerous signals have been added to control the crossovers that have been added for flexible traffic management. Some of the names are colorful and evocative, like Coconut, Pineapple, Meteor, and Seaboard.
West Palm Beach
Gator
Somewhere around the north end of Mangonia.
Coral
Near 17th Street, next signal north of WPB station.
Mockingbird, SX970.1
I discovered this signal shortly after the shanty was installed and labeled in late February, 2005. The new signals are mounted on cantilever gantries while the old signals were on wayside masts. The new signals are still bagged because the interlocking has not yet been completed, so you saw it here first, folks!



Seaboard, ~SX972
About 0.4-0.5 miles north of Summit Blvd and the WPB defect detector that sits immediately north of the road at SX973.2 milepost.
Boca Raton (area south of Lake Worth)
Orange Blossom
First signal north of Lantana Rd.
Coconut
Ocean Ave., Boynton. Former north end of Boynton siding, now a crossover control point.
Boynton
South end Boynton SX984.4
Meteor
Somewhere between Pineapple and Boynton/Delray area.
Yamato
North of Yamato Rd.
Pineapple, ~SX992
North of Glades Rd. across from airport. Visible from I-95 just south of Clint Moore Rd. overpass.
Fort Lauderdale area
New River Bridge
About 1 mile south of Fort Lauderdale passenger station. A new flyover bridge supplements the draw span on the freight mainline. It has a 2.5% grade on the north approach and a 3% grade on the south approach.
On 31 January, 2007 a work train with 2 GE locomotives CSX7775 and CSX7686 pulled 25 cars (barely!) over the new flyover bridge to drop ballast rock on the east track. This northbound Tri-Rail train ran north over the old drawbridge and is just about to knock down the signal at the new Whalen signal bridge. Note the Colorado Rail Car DMU Demonstration Project cars leading north, while a Tri-Rail GP40 brings up the rear for faster acceleration from stops.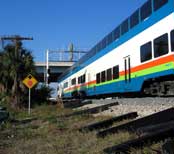 Miami-Dade
Plantation
South of Hallandale Blvd., north of curve to the west above Miami Gardens Dr.
Hardy
Part of same interlocking plant as Plantation, signal gantry almost looks like it is touching overpass carrying Miami Gardens Dr.
Return to Bote's Rail Pages