F.E.C. Train Watching Areas
Fort Lauderdale, Florida, U.S.A., Earth, Sector 0-0-1
Return to home page
---
Updated 2023.04.11
---
Pick Your Poison
Train watching notes
FRS radio channel
F.E.C. radio channels

Trainwatching site list
FTL Station — Fort Lauderdale passenger station
Funky Buddha — trackside brewpub in Oakland Park
Industrial area — Lauderdale yard
In the grass — 7th Street
Armchair railfan — Pirate Republic Shirttail Charlie's
---
Train Watching Notes
Overview
The majority of freight trains pass through Fort Lauderdale in the dark or in the morning before about 09:00. BrightLine passenger trains get top priority over freights, but rich yacht owners get even higher priority as an agreement with the U.S. Coast Guard limits when and how long the F.E.C. drawbridge can remain lowered across the New River. As a result, trains sometimes must wait for the time window when the drawbridge can be lowered, in the meantime blocking grade crossings all over the city. In short, many must wait so that the very few won't be inconvenienced; they are rather delicate types after all.
Consult my schedule of approximate times through Fort Lauderdale to get an idea of when to be on the lookout.
FRS Radios
More and more railfans are using inexpensive Family Radio Service walkie-talkies to keep in touch when they are not in earshot of each other. The most popular channel is ch. 4 with a tone sub-code (sub channel) of 5A or 156.7Hz, but each radio is different on sub-codes. The sub-code tone simply keeps you from hearing others on the same channel, it doesn't give you any privacy, despite what the manufacturer's literature might say.
F.E.C. Radio
F.E.C. Radio Frequencies

| Frequency | AAR Ch. | Use |
| --- | --- | --- |
| 160.530 | 028 | FEC road channel |
| 160.770 | 044 | FEC train-to-dispatcher uplink channel (half-duplex) |
| 160.650 | 036 | FEC maintenance-of-way company employees |
| 160.410 | 020 | Cocoa area m-o-w contractors during BrightLine double-tracking project |
| 160.980 | 058 | south end m-o-w contractors during BrightLine double-tracking project |
| 160.245 | 009 | DMR BrightLine, Fort Lauderdale station |
| 160.485 | 025 | DMR BrightLine, West Palm Beach station |
| 452.9375 | | head-of-train transponder, the railfan's best friend |
| 457.9375 | | end-of-train transponder |
Fort Lauderdale Station
The Fort Lauderdale All Aboard Florida/BrightLine station sits on the west side of the tracks across from the Broward central bus terminal, just north of Broward Blvd. The NW 2nd Street grade crossing has been permanently closed and traffic patterns are different now.
This will be one station in the BrightLine passenger rail system.
Funky Buddha
Funky Buddha is a brewpub smack next to the tracks at NE 38th Street and Dixie Highway in Oakland Park. It occupies the former Golden Eagle beer distributor warehouse. You can still see where the industry lead used to lay next to their converted porch.
Now you can enjoy a wide range of beers, even some wines, and some pretty good bar food in the back. They usually have sports on the TVs to occupy you when trains aren't passing by. When they do, you can't mistake them as they are about 10 feet off the loading dock.
Just do everyone a favor and leave the foam in the car, thanks.
Pirate Republic
Shirttail Charlie's
For those who like to watch trains from the comfort of a river-front bar, we recommend Pirate Republic (formerly Shirttail Charlie's) on the New River in downtown Fort Lauderdale. This casual bar serves everything from lite beer to strong spirits as well as bar-type food such as burgers and fish.
It's not the easiest place to get to, but it's worth the effort. You always know when a train is coming because the dispatcher will initiate the 5 minute timer to bring down the drawbridge, which warns boats by sounding a "whoop whoop" horn. Five to ten minutes later a train pounds across the bridge while you sip on a cold libation (mostly) protected from the rain and Sun.
Directions
From I-95, go east on Broward Blvd to SW 7 Ave. Go south over the drawbridge and turn left at your first chance onto SW 6 Street. Drive 1 block and turn left on SW 3 Ave. and go all the way to the end where you will see the parking lot on the right for Pirate Republic. The bar entrance is at the north end of the lot next to the boat storage company, or you can just walk through the marina's big gate to get in there. Lock your valuables out of sight.
Southside
There is plenty of space along the tracks between SW 5th and 7th Streets to watch trains. This area is immediately south of the draw bridge and home signals. If you're lucky you'll see a meet of trains 202 and 107 sometime around 01:00 if you can stay up that late. This is an impressive sight and sound if they meet nose to nose right in front of you. Best parking is on the east side of the tracks.
Directions
Follow the directions to Pirate Republic, above, but don't turn left onto SW 3 Avenue. Instead, continue across the double track and make an immediate right onto Flagler Avenue and pick a spot out of the way.
Old Lauderdale Yard
Florida East Coast Railway's Fort Lauderdale yard is a small facility with storage tracks for mixed freight that goes to businesses from Dania Beach to Pompano Beach. The old Andrews Avenue intermodal ramp is no longer used as that operation has moved to the new inaccessible Port Everglades intermodal facility between US1 and the Intracoastal Waterway. Through-freight trains can be seen flying past from the south end of the industrial area at SW 1st Terrace and SW 33rd Street in view of the large Port Everglades interlocking signal gantry. Daytimes see lots of truck industrial traffic up and down this narrow street to the WestRock recycling facility, while at night their security guard rousts out anybody along here no matter where you stop. Just keep clear of the tracks and don't be stupid and you should do fine.
THERE IS NO WARNING OF APPROACHING THROUGH-TRAINS AND THEY MOVE AT TRACK SPEED!
At the yard, you might hear the defect detector at milepost 346 in Dania Beach. This is one indication that a northbound train approaches. The other is that they will usually call "hot rail at Lauderdale" on the road channel to warn the ramp job of their approach.
Lester's Diner on State Road 84 at SW 2 Avenue is a popular hangout to get a bite to eat while waiting for trains. It has a pretty wide menu of American and Greek specialties and good food. The help is pretty frank with customers, which is part of the charm of the place, so don't be put off by it.
Directions
From I-95 exit east on State Road 84 (SW 24th St.). Before crossing the tracks, turn right onto SW 2nd Ave at Lester's Diner and go all the way down and wrap around to the left until you are looking at the tracks. Park at the edge of the street on the rock ballast, but keep in mind that those parked 18 wheelers might be moving in and out around your vehicle, so don't block them in.
There's a security guard for WestRock in a white pickup truck who thinks he's responsible for everything that happens on SW 1st Terrace whether it's on their property or not so you just have to explain that you're watching trains and mean no harm and he will leave you alone.
The below map is ancient and crappy, but it will have to do until I improve on it.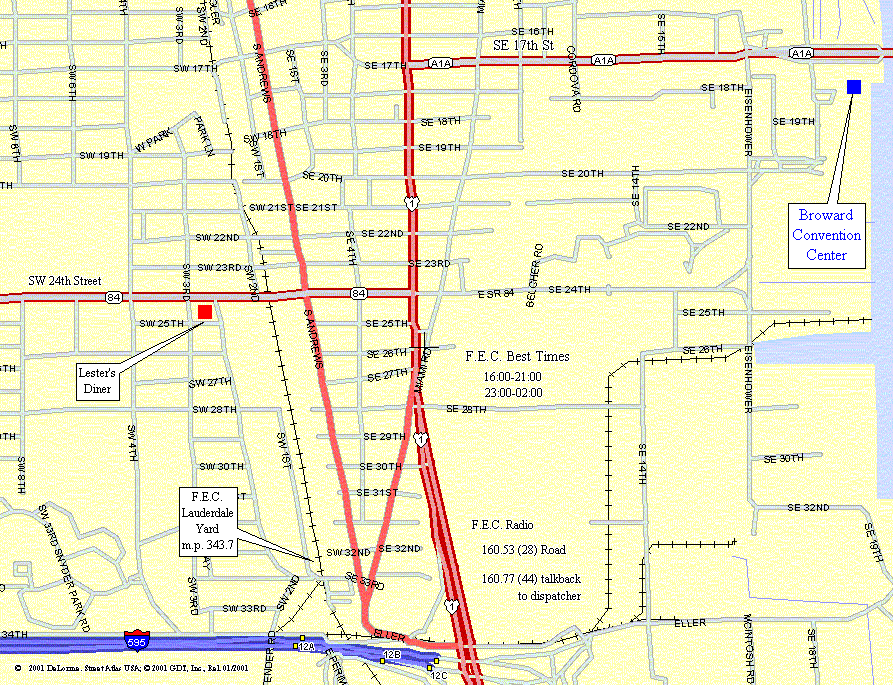 Return to home page